Luxury Sets - 40% off
$

140.00
On sale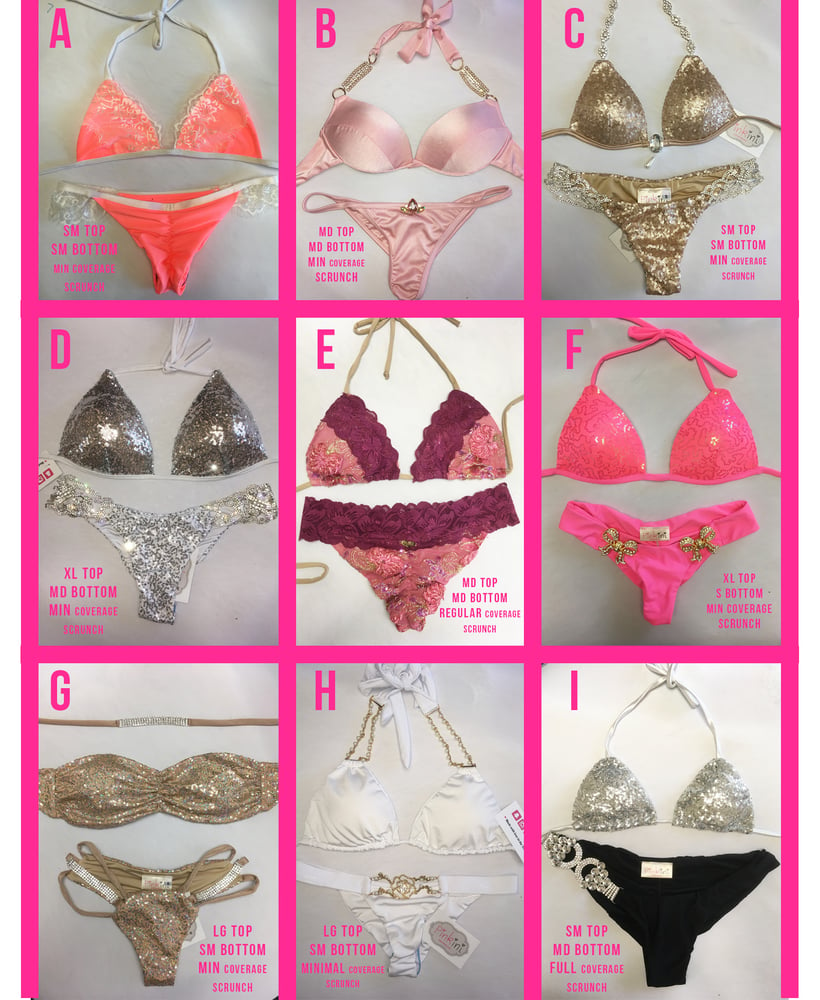 Luxury Sets that are ready to ship out within 2 business days! Get them now while you can!! These 9 only!!
A- Neon Orange with White Boutique Lace with Waist Band Bottoms. SM/SM MIN Coverage
B- Blush with Chandelier Straps. Push Up BRA Cup Cups and GORGEOUS Rose Bud Crystal in the center of the bottoms!! MD/MD MIN Coverage
C- CHAMPAGNE BUBBLES Original!! Tiara Jewels. Pearl Drop in the middle. Cool matte Sequins. SM/SM MIN Coverage.
D- SILVER BRIDAL Combo! Tiara Jewels on the sides! Built in Cup Triangle Top! XL/MD MIN Coverage w/Scrunch.
E- MD/MD Regular Coverage w/Scrunch. Intricate Detailed Flowered Fabric! Super rare and the absolute last of it's kind! Gorgeous Dusty Rose/Burgundy Combo
F- XL/SM Hot Pink Jeni Built in Cup with super cute little bow matching bottoms!
G- LG/SM This is the absolute LAST "in the nude" that we have paired with the wanderlust bottoms!
H- LG/SM Candy Pearl in White
I- SM/MD FULL Coverage w/Scrunch. Ashley suit with the cute asymmetrical star cross lover bottoms!
Sample Sale: All of these pieces were created as samples or used for photoshoots. If you have any questions, reach out via instagram for an immediate answer. We will be answering questions via the DM's on our official instagram page @pinkiniswimwear. Or you can send us an email to info@pinkiniswimwear.com. Most of these fabrics have been discontinued and some jewels as well! Remember ALL SALES ARE FINAL. Mix and match to create your own suit! We hope you enjoy! <3